Tuesday, Jan. 26, 2021, 6:30pm by Zoom
Sepulveda Basin Wildlife Areas Steering Committee
MEETING NOTICE
Join Zoom Meeting: https://ucla.zoom.us/j/93333681483
Call to Order
Introductions: New Sign-in Method- virtual sign in sheet: https://docs.google.com/document/d/1UPE9_QfCbx-dkNamVVVyOretyVhjmwJ8GDg6IUL8lq0/edit?usp=sharing
Determination of Quorum / WASC membership requests.
Approval of November and December Meeting Minutes

Vote on Vice-Chair item:
CHAIRPERSON AND VICE-CHAIRPERSON

4.1 Each organization in good standing shall be obligated to have its representative serve as a rotating Committee chairperson for a term of office of a calendar year effective January 2011.

4.2 The chairperson shall be responsible for preparing the meeting agendas, conducting the meetings, and other matters delegated by the Committee.

Proposed addition of the following section:

4.3 A Committee vice-chairperson shall also be selected for a term of office of a calendar year effective January 2021. The vice-chairperson shall assist the chairperson as needed and shall fulfill the responsibilities of the chairperson in their absence or unavailability.

Presentation on examples of non-herbicide based methods for Restoration (Margot Griswold)


Discussion of planting approaches. Proposals include planting of some cottonwoods and willows in the riparian corridor, sowing doveweed seed in the northernmost part of the West Field (in the area where FoLAR volunteers did mustard removal) and the ploughed area east of the lake.


Next steps for goat-grazing proposal


Special meeting in February?
ADJOURNMENT (8:30 p.m.)
NEXT MEETING February 23, 2021 at 6:30 PM.

LA City Tackles Water Lettuce Invasion - Volunteers Not Needed - Thanks to Those Who Helped!
As of October 27, City of L.A. staff began work on removing invasive water lettuce from boats and from the shore.



Sepulveda Basin Wildlife Reserve Burned in Sept. 5 Fire
All On-Site Activities Cancelled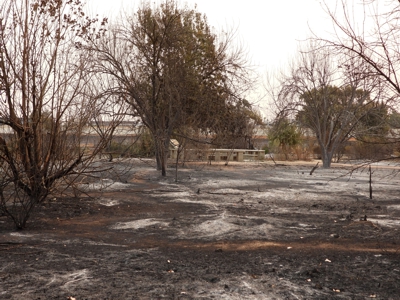 "One Dead, One in Custody in Sepulveda Basin Fire"
NBC4 News
Check out Page 14 about the Basin fire:
https://valleynewsgroup.com/wp-content/uploads/2020/09/Encino-Sept-17.20.pdf