This website is sponsored by the Sepulveda Basin Wildlife Areas Steering Committee (SBWASC) that has been meeting monthly since June 1990. The purpose of the Committee is to advise the City of Los Angeles Department of Recreation and Parks concerning the operation, maintenance, and improvement of the existing wildlife areas and any future expansion thereof. The Committee may also make recommendations on matters concerning flora, fauna, and other natural resources in other areas within the Sepulveda Basin, such as the Los Angeles River and its tributaries, park land, and open spaces.

The membership of the Committee is comprised of organizations with a demonstrated interest in flora, fauna, and other natural resources within the Sepulveda Basin. See the bottom of this page to see the logos of the member organizations and other affiliated agencies, or click the tab at the top of the page.

Minutes of the SBWASC can be found here.

Regular meetings of the Committee are held every other month generally on the fourth Tuesday at 6:30pm.
See "Upcoming Events" on this page for next meeting.

DIRECTIONS TO THE WILDLIFE RESERVE and MAIN TRAIL

Turn north from Burbank Blvd. (or south from Victory Blvd.) onto Woodley Ave., which is ½ mile west of the San Diego Freeway (I-405). Travel about ½ mile to the sign for the Wildlife Reserve (and Japanese Gardens).
Turn east onto Wildlife Way, a park road.

Bear right at the immediate fork in the road and go east ½ mile to the Wildlife Reserve parking on your left. The Wildlife Reserve is to the south...follow the trail down from the restrooms area.

To use online mapping programs, use 6100 Woodley Avenue, and that will take you to the park road ("Wildlife Way") leading to the Wildlife Reserve's parking lot at the road's east end.

Park in the lot, then walk south past the monumental rocks and restroom building to the amphitheater.
Follow the trail leading from the "stonehenge" restroom/amphitheatre area south towards the entrance to the Wildlife Reserve.

You can walk all the way down to the LA River, but if you do (the trail leads through a tunnel under Burbank Blvd.) be sure to go with another person.

Click HERE for A Regional Trail Map of the Basin (13.26MB pdf file)
Click HERE for a local trail map of the Wildlife Reserve


The "Public Recreational Use Plan Sepulveda Basin Wildlife Area" was signed and agreed to in 1987 by the City of Los Angeles, the U.S. Army Corps of Engineers, and the State of California Department of Fish and Game (copy attached). The "Public Access and Use" section (beginning on Page 6) provides, in part, as follows:

"Therefore the following rules and/or regulations will be enforced within the Wildlife Area by City park rangers and City police. These rules will be incorporated in appropriate public use information signs and posted at the entrance and appropriate locations with the wildlife area.

1. Public use shall be allowed on the Wildlife Area during daylight hours only.

2. Camping, open fires, and the use of gas cooking stoves on the Wildlife Area is prohibited.

3. All visitors shall remain on the designated trail. There will be no public access to the east side of the wildlife lake to prevent disturbance to wildlife.

4. Bicycles, skateboards, or rollerskating will not be allowed in the Wildlife Area.

5. No person shall drive, operate, leave or stop any motor vehicle, off-road vehicle, or tractor in the Wildlife Management Area except for maintenance vehicles.

6. No person shall swim, wade, or dive within the Wildlife Area.

7. No person shall launch or operate a boat or other floating device within the Wildlife Area.

8. No person shall disturb or take any bird, nest, or eggs thereof, or any plant, mammal, fish, mollusk, crustacean, amphibian, reptile or any other form of plant or animal within the Wildlife Area.

9. No person shall possess, fire or discharge any firearm, bow and arrow, air or gas gun, spear gun, or any other weapon of any kind within or into the Wildlife Area.

10. Individual user permits will not be required; however, a visitor sign-in booth will be located at the entrances and will be maintained by the City.

11. All commercial activities are prohibited on the Wildlife Area. Large organizational groups of over 50 people will require prior Parks and Recreation (City) approval before use of the Wildlife Area. Permit Office 818-756-8187

12. The release of any fish or wildlife species, domestic or domesticated species, or the introduction of any plant species, is prohibited.

13. The feeding of wildlife is prohibited.

14. Pets, including dogs, cats and horses are prohibited from entering the Wildlife Area."

CLICK HERE FOR SAFETY PRECAUTIONS WHEN RECREATING IN THE LA RIVER

Recommendations for recreational users include:

- No swimming

- After rain, wait 72 hours before entering recreational zones

- Avoid face-to-hand river water contact

- Wash hands and exposed skin after water contact

The mission of the Committee shall be to oversee, in its advisory capacity, the wildlife refuge areas and other areas of present or potential natural value within the Sepulveda Basin, as well as to support policies and programs that ensure their long-term preservation, protection, and enhancement.

NO DOGS ALLOWED

Article 3, Section 63.44 of the Los Angeles Municipal Code contains Regulations Affecting Park and Recreation Areas. 63.44 B-2 mandates that all dogs be on a leash less than 6 feet long, B.8. 'No person shall land, release, take off or fly any balloon, except children toy balloons not inflated with any flammable material, helicopter, parakeet, hang glider, aircraft or powered models thereof, except in areas specifically set aside therefor, B-10 prohibits bows or crossbows, B-11 prohibits the take/seizure/hunting of all birds/animals/fish, B-12 bans the removal of wood/plants/rocks/soil, B-13 makes it illegal to deface any property (including plants), B-14 prohibits all loitering between 10:30 PM and 5:00 AM, B-16 prohibits all human or motor powered vehicles (except on trails or roads specifically for that purpose), B-17 bans all fires, B-19 prohibits littering, B-21 bans firearms.

NO DRONES ALLOWED

Who to Call

For emergency (life-threatening) situations:

<![if !supportLists]> 1. <![endif]> LAPD -- 911.

<![if !supportLists]> 2. <![endif]> Park Ranger Dispatch – 323-644-6661

If you witness people shooting birds or other wildlife:

<![if !supportLists]> 1. <![endif]> LAPD – 911

<![if !supportLists]> 2. <![endif]> Park Ranger Dispatch – 323-644-6661

<![if !supportLists]> 3. <![endif]> California Fish & Wildlife –
1-888-334-2258

For non-emergency problems (examples: dogs off leash, fishing,
hunting without firearms, off trail hiking, parking on grass):

<![if !supportLists]> 1. <![endif]> Call 1-888-ASK-LAPD
(or 1-888-275-5273)

<![if !supportLists]> 2. <![endif]> California Fish & Wildlife –
1-888-334-2258
(hunting or fishing)

For CF&W, a recording will come on and give you a menu. PRESS ZERO for the operator and the operator will ask for the "violation in progress" and your location and transfer you to the applicable Fish and Game division department. State that Warden Kory Collins is in charge of the area and should be notified of the problem.

LA City Animal Services West Valley
818-756-9325 and 818-756-9356

California Wildlife Center
310-456-9453 or 818-222-2658

SAD NEWS. VANDAL TORCHED PETE'S EAGLE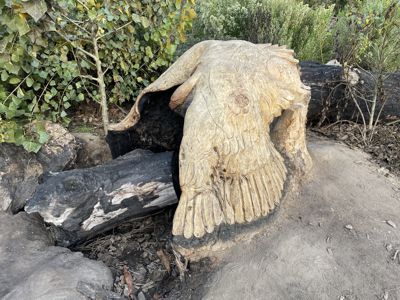 No Longer There.

We have discovered the Channeled Apple Snail which is a non-native invasive mollusc that lays pink eggs.
If you see these eggs squash them.
Here is a LINK to a notice posted by the California Department of Fish and Wildlife

Below, Channeled apple snail laying an egg mass, which typically contains between 200 – 600 bright pink eggs.
Photo by Katasha Cornwell, Florida Department of Transportation.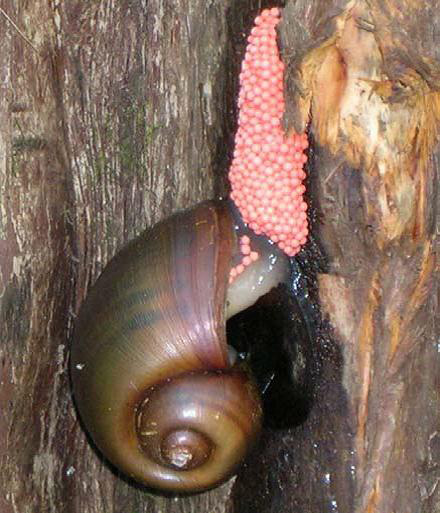 NATIVE PLANT VIDEO SERIES
PRODUCED BY DEBORAH A. KEATON

California Wild Rose
Galls on Cottonwood
Holly Leaf Cherry
Evening Primrose
Milkweed/Monarch Caterpillar
Weeding Mustard

Great Photography - Sepulveda Basin Wildlife Reserve - By Joe Doherty

iNaturalist Observations in the Sepulveda Basin

Sepulveda Basin Encampment Cleanups January 2020

https://abc7.com/society/sepulveda-basin-encampment-cleanup-enters-final-phase-/5825852/

https://patch.com/california/encino/cleanup-sepulveda-basin-homeless-camps-targets-remaining-group

Video about fire in the Basin on July 30, 2019
Click HERE

Short ABC7 video about volunteers in the Wildlife Reserve
Click HERE

Wildlife Sightings and Conservation
Click HERE